Fire Protection Systems
Ward's is one of the largest authorized dealers in North America of Kidde Fire Systems for Off-Road equipment applications.
Our fully engineered and certified designs help protect the largest Drag Lines, Hydraulic Shovels and Haul trucks in the world.
Ward's has also been designing and installing similar systems on forestry equipment for almost twenty years.

Utilization of state-of-the-art Infra-red detection and dual action suppression systems helps reduce valuable down time and keeps financial losses to a minimum.
Complete design, installation, service and repair of dry and wet chemical systems, Clean Agents, FM200, CO2, FE13, Novec, Argonite as well as Industrial Systems.

(Right - IR Detector, Center - Heat Detector, Left - Linear Wire Detection)
Pointing out the effectiveness of the different detection systems available on the market.
Authorized Distributor for: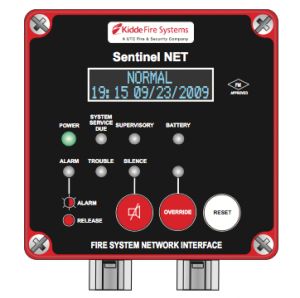 Our competitive pricing, advanced installation procedures and dedication to customer service have given us a strong position in the mining, heavy construction and forest industries.
We not only sell the fire protection systems, we engineer, install and service them as well, allowing us to work alongside our customers to make sure their fire protection needs are met.
Our fire systems are put to the test 24 hours a day 7 days a week in the most rugged of environments.
Ward's has an award winning reputation for excellence in the fire suppression field.
We recognize that losses due to fires and down time are critical in any business; therefore our team of professionals are available to meet your specific fire protection requirements at any time.
Our systems have been put to the ultimate test by being installed on more than one thousand pieces of mining, construction and forestry equipment and the same systems have been involved in protection and extinguishing hundreds of fires on all types of equipment with virtually no damage, zero losses and minimal down time. This is an unparalleled track record that no other similar company in the same business can boast against. Ward's has been and continues to be the leader in Fire Protection System Reliability in the industries it services.