CARL WARD of Ward's Hydraulic Services Ltd.
Ernst & Young
Entrepreneur Of The Year
2012 Finalist
October 04, 2012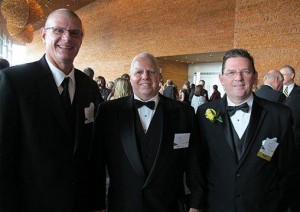 Joined by his two sons, business and company colleagues Carl Ward was honoured at the EOY Pacific Awards Gala On October 4, 2012 that was held at the Vancouver Convention Centre. This "Academy Awards-style" evening and venue was planned in order to celebrate the accomplishments of 25 companies and entrepreneurs in 9 separate categories. While Carl was edged out of the actual finalist position it is recognized as a tremendous accomplishment to make the finalist selection as Carl Ward did.
Ward's Hydraulic Services (WHS) was originally established out of Coquitlam B.C. twenty years ago; being a risk-taker and a true entrepreneur Carl Ward opened up his Edmonton office and Fort McMurray branch of WHS almost 15 years ago and hasn't looked back. WHS was the first major heavy equipment fire protection system supplier and maintenance company to set itself up at a critical time when the loss of costly mining equipment due to fire was common place in the global mining community. In addition to this aspect of Ward's services, Carl also introduced a range of hydraulic/mechanical -based products and services into British Columbia and Alberta during this time which has most recently included an emphasis on cylinder repair and servicing work and Thermex, "Cold Start Systems," both of which apply to heavy mining and construction equipment. Much of the success and prosperity enjoyed by WHS today stems from Carl's decision to set up and be an active competitor across northern Alberta and British Columbia. Changes and even the recent downturn in the local and Canadian economy never stopped or slowed Carl Ward down from pursuing the objectives he had set for introducing his products and services to highly competitive and challenging places such as Fort McMurray, Alberta. While one segment of the business would seem to slow down during these unpredictable times another would make up for the downfall allowing Ward's to retain its existing workforce while keeping the company busy and productive.
While Carl will agree that it does take guts to set up a business in an entirely new geographical location, he is also the first one to remind you that the success of his company is not as a result of working in isolation. Carl will tell you that the success of his company has been as a result of several others that work with and for him, and because of the commitment by local mining companies and service contractors to use the products and services available through WHS.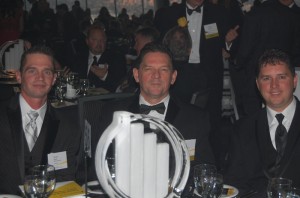 As a result of a successful history in Fort McMurray, Ward's will continue to be in an expansion mode locally as it officially opens up its new Cylinder Service Centre in the region. This new state-of-the art shop is one of the most well equipped and advanced in Canada. Carl is also proud of WHS's unprecedented track record in the protection of mining and forestry equipment from fire. Ward's is the only company in this line of business that can say that none of its end-users have ever lost a piece of fire protected equipment due to fire, and in fact, there has never been any kind of a fire loss associated with WHS installed and/or maintained fire protection systems on any of its mining, construction or forestry equipment. Carl quickly points out that this enviable outcome needs to be shared by those that have supported his business and that have trusted WHS for its expertise and guidance given in system engineering and overall design. It is this kind of support and trust that has helped Ward's to grow and to be a successful company that is on the move!